GOP Chief Mapping Victory Plan
Inside Politics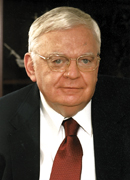 House Minority Leader Lynn Westmoreland is on the road these days, redistricting maps in hand, hoping to convince voters that Democrats went overboard in their political shenanigans. The bizarre lines of some of the congressional and state legislative districts help persuade voters of the devious Democratic tactics, says the Sharpsburg Republican. Westmoreland has taken blown-up copies of the maps to Savannah, Griffin, Dawsonville and Augusta, among other places, and hopes to have similar meetings in every one of the state's 159 counties. "Here's the bright side," he says. "You can pack Republicans in certain districts within the state but you can't redraw the whole state of Georgia. South Carolina and Florida might object." Westmoreland insists that redistricting is "going to be an issue in November," maybe one with impact enough to defeat Gov. Roy Barnes.
State School Superintendent and candidate for governor Linda Schrenko has had her up and downs lately. She has been repeatedly absent from State Board of Education meetings. She also has missed several campaign events, giving rise to speculation she may be considering abandoning her bid for the GOP nomination for governor. She was injured in a fall from a ladder in her home. Her husband is seriously ill. And some key members of her campaign staff have resigned.
On Fox, Fred Barnes called Carter a 'menace' to subsequent presidents. Mort Kondracke said that except for Jesse Jackson, 'Jimmy Carter is the biggest nuzzler of anti-American dictators in the country.'" — From Howard Kurtz's column in The Washington Post on former President Carter's recent visit to Cuba.
Gov. Roy Barnes' House floor leader, Rep. Charlie Smith Jr., D-St. Marys, has announced he will not seek re-election. He has been a member of the House since 1993. Smith says he will spend two months working in Barnes're-election campaign and on his wife's bid for re-election to the Camden County Board of Education, then devote full time to his law practice. Smith has been an ardent advocate for education reform during his 10 years in the House. He is the third veteran Democratic representative to announce retirement recently. House Speaker Pro Tem Jack Connell of Augusta and Rep. Roger Byrd of Hazlehurst said recently that they are quitting. House Rules Chairman Calvin Smyre, D.C.olumbus, is the odds-on favorite to succeed Connell as speaker pro tem of the House when new House officers are elected in January.
Sen. Phil Gramm, R-Texas, brought down the house with his UGA commencement speech when he declared that UGA "has advanced in academic prestige and excellence more rapidly than any college or university, public or private, in the nation . . . due to the HOPE scholarship created by the man with whom I share the stage today, Sen. Zell Miller." There was an immediate and sustained standing ovation by the estimated 35,000 graduates and their parents in the stands at Sanford Stadium. "You'd have thought someone had gone on the field and scored a touchdown," said one observer.
Only three natural gas companies have applied to the Georgia Public Service Commission to become the provider of last resort under the state's modified deregulation law: Georgia Natural Gas, Scana and Infinite Energy. Georgia Natural Gas, the Atlanta Gas subsidiary, is the largest provider in the state. Scana is not far behind.
"Look out, Albany, it could be a trap," warns Bo McLeod, editor of the Donalsonville News, not far from Albany in Southwest Georgia, referring to the judge's decision to move the trial of former DeKalb County Sheriff Sidney Dorsey from the Atlanta area to Albany. "You're not supposed to be able to read or write, they figure," says McLeod, "so you've never known that Sidney Dorsey is accused of several serious crimes. . . . You have to move down the road a piece so the defendant can get a fair trial. . . . Evidently the distance from Atlanta to Albany is sufficient to make things right." South Georgia needs to work out an understanding, McLeod declares, with the people with "the power to move such things around, like this. We'll go along on this one as far as we can, but don't get the idea we're signing on to settle and solve all of Atlanta's problems and shortcomings. It'll take more than one court session to do that."
Burke County farmer Cleve Mobley has withdrawn as the leading Republican candidate for Congress in the new 12th District. His decision to quit the race virtually assures election of an African-American Democrat in the crazy-quilt district, which includes Augusta, Athens and Savannah. However, Athens talk-show host Barbara Dooley, wife of UGA Athletic Director Vince Dooley, announced as GOP contender for the new post. Democratic leaders of the General Assembly designed the jurisdiction, which has a 45 percent black population, to guarantee the election of a black Democrat.
Veteran political consultants Terry Mathews, Scott Maxwell and Harris Blackwood have formed a new outfit, Campaign Productions Group, to aid candidates, particularly those for the Legislature, in the coming election contests. Mathews and Maxwell were once aides to former Sen. Sam Nunn. Blackwood was an assistant to former Sen. Wyche Fowler.
The race for mayor in Augusta is shaping up with two major candidates, incumbent Mayor Bob Young and former state Rep. Robin Williams. Williams is seeking a political comeback after losing a bitter Republican primary two years ago to now-Rep. Sue Burmeister. Burmeister faces re-election in a new House district. Mayor Young, also a GOPer, parlayed his name recognition as a local TV anchorman into city hall four years ago and has struggled with problems not entirely of his own making, such as the growing pains of the city-county consolidated government in Augusta, which makes the mayor of Augusta also the chairman of the Richmond County Commission. Qualifying for mayor is open until September, so other candidates may emerge, but Young and Williams are at present the only two making serious moves.
The Georgia Department of Public Safety has mailed out the first driver's license renewal applications to qualified Georgia citizens and launched the statewide mail-in Driver's License Renewal Program — only one month after the Georgia General Assembly approved legislation to enable the new service
U.S. Sen. Zell Miller, D-Ga., has unveiled a new plan to add a prescription drug benefit to Medicare to help America's seniors with the rising cost of their medicine. The plan already has won the endorsement of the AARP, the nation's largest advocacy group for senior citizens. "I'm not interested in merely proposing a prescription drug benefit. I'm interested in passing a prescription drug benefit. And I mean passing it before the election," Miller said.