The Man Who Broke The Drought
With a single touchdown, Theron Sapp did as much for Georgia pride as anyone in Bulldog history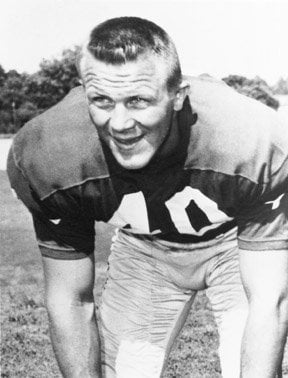 November 30, 1957 was a sub-freezing but delightful afternoon for Bulldog fans at Grant Field. A stiff wind was blowing out of the northeast as some 40,000 fans — mostly Tech partisans — came to see if Tech could make it nine consecutive victories over Georgia or if the Dogs would find a way to break the drought. They did, thanks to Theron Coleman Sapp, a mighty fullback out of Lanier High School in Macon.
The Bulldogs were suffering through a third consecutive losing season and had not scored a touchdown against Tech in four long years. But this was another day. After a scoreless first half, Sapp recovered a fumble at midfield. On third and 12 at the Tech 39, quarterback Charlie Britt hit Jimmy Orr with a 13-yard pass for a first down at the Tech 26. From then on it was all Sapp … Sapp … Sapp.
He crashed into the Tech forewall on six consecutive plays, down to the Tech 1-yard line. On fourth down Britt again handed off to Sapp, who powered his way into the right side of the Tech line for the Dogs' first touchdown against Tech since 1953 and the only touchdown of the game. Ken Cooper converted the extra point, giving Georgia a 7-0 victory. Sapp only crossed the goal line six times in his Georgia career but he did as much for Georgia pride with one touchdown as anyone in Bulldog history, including Frankie Sinkwich, Charley Trippi or Herschel Walker.
The late legendary Georgia Tech Coach Bobby Dodd said of Sapp, "Walker won the national championship for Georgia (1980) and was awarded the Heisman trophy (1982) but to older Bulldogs who suffered through the 1950s, Sapp's breaking the drought was greater. He silenced eight years of bragging from Tech students and alumni. Breaking the drought was a remarkable achievement."
Sapp's number 40 was retired two months after the '58 Tech game. His jersey, along with Sinkwich's, Trippi's and Walker's, hangs in the lobby of the Butts-Mehre Building at the University of Georgia. Sinkwich gained 2,271 yards and scored 30 touchdowns, Trippi 1,669 yards and 32 touchdowns and Walker 5,259 yards and 52 touchdowns. Sapp rushed for just 1,269 yards, but he ripped the Jackets' line to shreds in breaking the drought.
Says the Drought-Breaker, "I never dreamed my jersey would be retired."
Sapp was named to All-Southeastern Conference teams in 1957 and '58. He led the Bulldogs to a second win over Tech in '58, 16-3. He was named most valuable player in the Tech game in '57 and '58.
Sapp was named Georgia's Back of the Decade (1950-59). His late coach, Wally Butts, called him "the best offensive fullback I ever had." Sapp went to Georgia with a broken neck and finished an eight-season professional football career with a broken leg. In between, he was captain of the '58 Bulldogs, named most valuable player in the North-South and Blue-Gray College All-Star games and helped lead the Philadelphia Eagles to an NFL championship.
Today, the 67-year-old Sapp lives with his wife of 37 years, Kay, in a two-story, five-bedroom house on 12 acres in Evans, Ga., about 15 miles north of Augusta. At 6-0, he weighs the same as he did when he played pro ball, 210, only 10 pounds over his playing weight at Georgia. He works out three times a week, walking, riding his bicycle and playing racquetball.
He owned and operated four Maryland Fried Chicken stores in Augusta for 20 years. Now he is down to one store and in two years hopes to be completely retired. Then he and Kay can spend more time with their four children, nine cats, three dogs, two horses and two billy goats.
Meanwhile, Sapp is up at 7 a.m. five days a week. He works on his yard, checks his animals and heads for his fried chicken store where he does everything from cooking to greeting the customers. When the lunch crowd is gone, he supervises the cleaning up, talks with his employees, checks the books and heads for home. He and Kay rarely miss dinner together.
He has not attended a Bulldogs football game in four years but he has never missed one on TV. "It is nice," he says, "to be able to avoid the traffic to and from Athens and to walk only a few steps from my den to the kitchen and have my own fried chicken."
What does he remember about breaking the drought? "On the bus trip from Athens to Grant Field, I remember telling Coach Butts that we were going to win the game. I told him I didn't sleep a wink last night, that all I could think about was that we were going to break the drought."
Sapp was born June 15, 1935, in Dublin, Ga., the youngest of 10 children. When he was three years old his father accidentally shot himself. His mother moved the family to Macon where she supported the children by working as a riveter at Robins Air Force Base, down the road in Warner Robins.
As he was at Georgia, Sapp was a 60-minute man on the Lanier High School football team. He played offensive fullback, backed up on the line on defense, kicked off and returned punts and kickoffs. He led Lanier to the State Class AA championship and was picked on the All-State and All-Southern football team.
He was recruited heavily by Auburn and South Carolina but had been listening to Georgia football on the radio since his pre-teen days. He signed a grant-in-aid with Georgia.
In the state's annual North-South High School All-Star football practice, his world came crashing down. In his first scrimmage, he drove into the defensive team's thickest part of the middle and was knocked head over heels in a major pileup, suffering three cracked vertebrae in his neck. His surgeon told him he should never play football again, that even a slight blow to the wrong place could be fatal.
Coaches Butts and Quenton Lumpkin came to the hospital and told Sapp he had his scholarship no matter what. He spent his entire freshman year at Georgia in a head-pelvis body cast. Coach Butts told him he should not play football again but Sapp convinced his mentor otherwise. He spent his sophomore year on the B team and his junior and senior years on the varsity, bulling his way up the middle 258 times, right smack in the thick of things.
The Drought-Breaker flirted with death but became one of the greatest heroes in the history of University of Georgia football. Sound like fiction? It is the true story of a legend.