A Sense of Community
Presenting the 2003 Cities of Excellence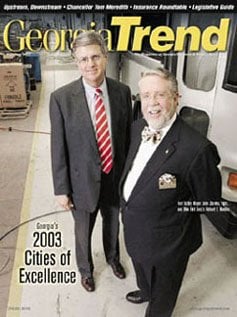 All Cities of Excellence share at least a few common traits: fiscal stability, strong leadership, citizen participation, cultural and recreational opportunities. These are the pluses that allow upscale, ritzy Alpharetta and rural, laid-back Baxley to appear on the same list. But it also helps if a city has that one intangible quality, an all-important sixth sense.
"The biggest thing I looked for was that sense of community," says David Chestnut, a Doraville attorney who served on the 17-person panel that selected this year's Cities of Excellence for the Georgia Municipal Association and Georgia Trend magazine.
"I divided the applicants into four groups based on population," says Chestnut. "All of the cities were financially sound, living well within their budgets. All of them had visionary leaders. But those cities that had developed a real sense of community, in my mind, are the ones that stood out."
The 10 standouts in our fourth edition of the Cities of Excellence are Alpharetta, Baxley, Covington, Douglasville, Duluth, Elberton, Fort Valley, Moultrie, Suwanee and Vidalia.
Joining Chestnut on the expert panel that sifted through the applications were journalists, economic developers, executives, educators, public servants — a group as diverse as the cities themselves.
"The mix was very good this year," says Winfred Owens, director of regional services for the Department of Community Affairs office in Athens, who is a second-year panelist. "There was a variety of governments and communities. I have a special passion for smaller communities, so I was very pleased that cities like Baxley, Fort Valley, Elberton, Moultrie and Vidalia were finalists."
Owens grew up in Oscilla, so he comes by his passion honestly. But those smaller, out-of-the-way places were joined by veritable clusters of excellence from the Metro Atlanta area. For example, it's only an 18-mile drive from Alpharetta to Suwanee, with Duluth in between. Douglasville in the west metro region and Covington in the eastern suburbs are linked by Interstate 20.
"Several of these cities impressed me with the way they worked regionally," says Owens. "They realized when they can't do everything themselves, it was important to have partners in making things happen."
Brenda Hayes, who works in community and regional development for the University of Georgia's Carl Vinson Institute of Government, was particularly impressed with Suwanee, which used to be little more than a crossroads but has become a pioneer in high-tech voting and one of the fastest growing cities in the state.
"It's a vital, energetic city that is operated in a professional, business-like manner," says Hayes. "But it is more than that. It's a city searching for and finding its soul, a city that remembers that true sense of community and is re-creating it on a daily basis while taking advantage of 21st-century technology."
— Jerry Grillo
City of Fort Valley
Blue Bird Has Landed — Again
By Ed Lightsey
Anyone who has ever tried to put toothpaste back in the tube can appreciate the difficulty facing Fort Valley officials as they attempted to get bus and RV manufacturer Blue Bird Corporation to return its headquarters to their community after leaving a decade ago for the more populous Macon. True, the move hardly brought Fort Valley to its knees. Only a couple of dozen executives left town. The 1,700 employees in the manufacturing plant stayed put. Still, there was the symbolism of the move.
Blue Bird has had a presence in Fort Valley since its founding here in 1927, and the location of the corporate headquarters gave community leaders a confidence that the company was in for the long haul. The move to Macon was a blow to the town's pride. So luring the executive corps back home was a high priority. Convincing a company to return to a community is the most difficult challenge facing any group of economic developers. But after the corporate headquarters spent eight years absent from the Fort Valley landscape, an opportunity arose.
Mayor John Stumbo learned Blue Bird's Macon lease was about to expire and the landlord was raising the rent, so he gathered local leaders and constructed a plan. The group found an empty bank building they thought ideal for Blue Bird and put private money into its renovation.
More building, less cost and a move back to the company's roots — Blue Bird was getting a deal it couldn't refuse. It didn't hurt that Stumbo was married to the granddaughter of Blue Bird founder Henry Luce. Although the company had changed hands a few times, Stumbo had a connection with Blue Bird history.
When Blue Bird announced in 1999 that its headquarters would be returning to downtown Fort Valley, locals were ecstatic. "It sent a signal that the top executives were committed to the plant," says Mayor John Stumbo. "It made a statement that our downtown was vibrant." The presence of Blue Bird corporate offices also gives Fort Valley an international flavor. The company has four plants in three countries and is owned by Henly's Group, a British industrial firm. The company remains closely held; trading on its parent's stock is done only in Great Britain.
Downtown Renewal
Stumbo is hoping a revitalized downtown born of renewed community spirit will stop a slide in population that saw the town of 8,000 lose 5.6 percent of its residents during the last decade. "We are broadening the ownership our people have in government," says Stumbo. Some of that ownership comes from cash investments, as well as volunteerism. In the past four years, more than $400,000 has been raised and invested in downtown development. Only about 12 percent came from government sources; the rest was put up by private citizens. "The current mindset is that small towns are on the decline," says Stumbo. "That's not true here." To emphasize his point, Stumbo shares a few secrets.
"Several local families have come together to start a community foundation with an initial endowment of $1 million," says Stumbo, waving a document carrying a pledge of $500,000 for the effort. "The degree of philanthropy in this town is very impressive." Stumbo says he knows that not every family can cut a check for a half-million dollars. "That's the beautiful other part of the equation," he says. "Volunteers can do just as much."
As an example, Stumbo points to a fountain at the intersection of three major road arteries, a place he calls "our front porch." "We originally planned for a private masonry company to build that fountain," he says. "But our public works employees said, 'We can do that,' and they did." Not only did citizens get an aesthetic addition to downtown, but they also found the ownership Stumbo believes so important. "It is especially touching to see a city worker showing the fountain to his son and telling him, 'I helped build that.'"
Not all ownership is in bricks and mortar. Local churches have begun offering English language classes to the growing Hispanic population, and a number of volunteer task forces are attacking some tough issues like housing, many of which could be helped by well-paying jobs. "We believe more of that is on the way," says Stumbo. Blue Bird, it seems, is eyeing a $30-million expansion that brings another 630 jobs.
Stumbo himself has had quite an impact on his community. The Harvard-educated Kansas native arrived in Fort Valley in 1989 and promptly ran for mayor. He knew no one. "I met the residency requirements for the office by only one week," he says. He finished second in a five-candidate race. He ran again and won in 1996. With his full beard, pin-stripped suit, suspenders, bow tie and a deep, resonant voice, he looks and sounds like a turn-of-the-century Southern rural political boss; that is, until his well-formed and decidedly non-Southern words enter the room. According to city hall employees, Stumbo can often be found in overalls mowing the grass along city rights-of-way. "He will also get in his pickup truck and go get somebody's garbage if the city trucks missed it," says city administrator Martha Harris. In Fort Valley everyone pitches in.
Town And Gown
Few communities in Georgia are so closely associated with an institution of higher learning as is Fort Valley with Fort Valley State University. Like the best of the state's college towns, Fort Valley is using its university as an economic development resource. City and university leaders have placed a public service facility downtown that includes a small-business incubator.
Fort Valley State became the first historically black college or university in the nation to participate in such a program and has been re-funded for the current year with $750,000 from the federal government. For University President Dr. Kofi Lomotey, the campus runs far beyond its traditional borders. "We are a family," says Lomotey. "We have a responsibility to the community."
At first blush, the idea of university putting an upscale restaurant in the downtown area might seem somewhat at odds with the institution's mission. At Fort Valley State, the mission changed and grew when a business faculty and student survey found that locals supported the idea of a fancy new dining spot. With a council of advisors built from the region's restaurant owners, the university has decided to build a fine-dining restaurant one floor above the school's small-business incubator; the restaurant and its operation will become part of the school's curriculum.
Building on previous successes in a cooperative degree program with the University of Nevada at Las Vegas, Fort Valley State is launching a plan to offer degrees in the hospitality industry; the new restaurant, called the University Club, is part of this. Students will receive a baccalaureate degree from FVSU and finish their education at UNLV, one of the nation's leaders in hospitality industry programs.
When Lomotey met with representatives of the nation's hospitality industry at a Las Vegas conference, he found a warm reception. The industry told Lomotey that not only was there a shortage of trained workers and management staff for restaurants and hotels, but the shortage of minority candidates for such jobs was acute. The industry has pledged not only moral support to Fort Valley State's new program, but is offering financial assistance as well.
The town-gown marriage extends into other areas of Fort Valley as well. When community leaders raised concerns about substandard houses along University Drive (the campus gateway), faculty, students and staff joined volunteers from the town to upgrade the residences. Several homes have been renovated and more rehab is planned.
"Traditionally we think of faculties focusing on research, publication and teaching," says Lomotey. "Now we are adding public service to that list, using our skills to assist the community in a collaborative way." More collaboration is coming in a spiritual way. Lomotey says funding has been obtained to open a faith-based support center on campus where students can gather in an interdenominational atmosphere for spiritual counseling. An advisory group of local men and women of the cloth will assist in staffing.
Fort Valley State is the community's second largest employer, after Blue Bird, and is the kind of economic engine that delivers assets far beyond a payroll. The loss of population over the last decade is not a worrisome thing to leaders here. "We are not disheartened by that," says Lomotey. "Other towns around us are growing and that will ultimately benefit us."
City of Alpharetta
Having It All
By Jerry Grillo
Alpharetta used to be the end of the line, the northernmost outpost on Georgia 400. "This was the country," says City Council Member Jim Paine, who grew up in Buckhead.
"I guess there have been a few changes here," quips Mayor Art Letchas, who has lived in Alpharetta since 1949. "One or two at least."
Letchas, a veteran high-school football coach, has been in Alpharetta's city government since 1983. He served on the city council all of those years, until August 2001, when he was elected mayor to replace Chuck Martin, who left office to make a successful bid for a seat in the state General Assembly.
"We had a population of about 3,000 when I first took office 20 years ago," says Letchas. "Now it's about 35,000. And we're about to get a Varsity restaurant. Guess we're on the map now."
When Letchas began his political career, there were about 1,500 housing units in Alpharetta. There are more than 14,000 today. Since 1996, the community has added more than 55,000 jobs and seen nearly $1.5 billion in new commercial and residential building. The city's weekday work population is about 100,000.
"There were two restaurants when I moved here," says City Council Member Debbie Gibson, who moved to town in 1987. "We have about 80 now. The only sizable hotel was in Roswell. Now we have 22 in Alpharetta."
Long-time Alpharetta residents, seemingly amazed at how quickly their little city in North Fulton County's horse country has grown into one of the nation's capitals of high-tech industry, often make comparisons like that. They do it so they can offset the mind-boggling numbers with the following point: "We still have that small-town charm," says Paine.
Save The Silos
As if to prove the point, the city council authorized the purchase of three silos in the middle of a busy retail district. The farm that was there has been gone for almost 20 years, replaced by a shopping center. The silos are Alpharetta's answer to Marietta's Big Chicken.
This is a city that has it all. Through aggressive economic development tactics, the city has attracted some of the largest technology companies in the world, like Certegy, a financial transaction processor that had almost $1 billion in revenues in 2001.
Obviously the city has done an equally good job in attracting affluent residents (average household income is $93,234, average housing value creeping toward $300,000), many with a devotion to community service. Volunteers built two mega-playgrounds and helped develop an entire Habitat for Humanity subdivision, giving Alpharetta something it had very little of — affordable housing options.
It might surprise commuters who know Alpharetta only for its manicured glass and steel office parks, or its mixed-use neighborhoods like Windward, but the city has a quaint, pedestrian-friendly downtown area, with brick sidewalks, decorative lighting and old buildings.
Alpharetta began planning for its explosive growth 20 years ago, when Letchas was cutting his political teeth. "We've been fortunate to have good planners in this city," says City Administrator Bob Regus. "Arthur is like E.F. Hutton. He doesn't talk loudly, but people listen."
Alpharetta was the first Metro Atlanta city to impose impact fees, and those fees are the highest in the state. The city was also one of the first to create a tree ordinance, which explains why so many office parks look more like parks than offices.
For much of the past 20 years the city was engaged in a land war with the county and its neighbor city Roswell, as each town tried to outflank the other. "We fought over annexations," says Letchas. "We'd go south, and they'd go north. Over the last couple of years, since Jere Wood has been the mayor of Roswell, it's been a much more relaxed relationship."
Love Thy Neighbor
The cities even share police protection duties through several joint ventures, including traffic and drug enforcement and law-enforcement training. To save tax dollars, Alpharetta is housing its inmates at Roswell's jail at a lower cost than providing the service itself.
So there's less fighting between neighbor cities, and less in-fighting in Alpharetta, where a city council meeting agenda is thick as a phone book and votes are often scored 7-0 or 6-1. All council members are elected at-large. "No ward politics, and we actually like each other," says Gibson, an avid roller-blader and single mom who spends her spare time speeding along Alpharetta's Big Creek Greenway, a 6.2-mile linear park.
And that might be Alpharetta's smartest move yet, its commitment to give its citizens parks and greenspace, no small feat in an area that sometimes appears to be mired in an eternal traffic jam. "Seventeen years ago, we had zero in the way of recreation and parks," says Paine. "That includes programs and facilities."
A lot has happened in 17 years. Two years ago Alpharetta became one of only three cities in Georgia to have a nationally accredited parks and recreation department. Recently, department director Mike Perry became president of the Georgia Recreation and Parks Association.
When Perry took over Alpharetta's rec department 11 years ago it had a budget of $500,000. Today it's $5.1 million. The city now has almost 500 acres of parkland and a comprehensive program to serve its citizens. The city's current recreation "brochure" features 34 pages of offerings for the community.
The jewels in the recreation crown are the wooden castles in Wills Park and Webb Bridge Park — massive adventure play areas built entirely with donations and volunteer labor. The kids named them Whacky World and the Webb Zone.
"There were 200 volunteers who donated 10,000 man-hours to build Whacky World," says Janet Rodgers, the city's director of special events. "As a city employee, when you see a community that loves to get involved, participating to that extent, it just makes you want to do better."
City of Baxley
Good Connections
By Ed Lightsey
The 4,150 folks living in Baxley pride themselves on being good neighbors, so there wasn't much hesitation when their friends in nearby Jesup called and asked, "Do you mind if we borrow your garbage truck for three months?"
Baxley city officials sent it right over. It seems the garbage truck in Jesup was down and out and Baxley leaders had recently decided to turn over their refuse pick-up to a private company — leaving them with an idle truck.
"It's all natural for us," says city manager Jeff Baxley, whose great- great- great-grandfather, Wilson Baxley, founded the town. "We get along fine with our neighbors and try to help them when we can and they do the same." Those neighbors have been known to share garbage trucks and street sweepers, as well as services and expertise.
Other neighbors are about to get into the act. A new Tri-County Industrial Park is soon to open on the outskirts of Baxley as the result of joint efforts by the counties of Appling (Baxley), Jeff Davis (Hazlehurst) and Bacon (Alma). To help serve the industrial park, Baxley is doubling its sewage capacity with $8 million from a mix of government sources. The new addition is expected to improve chances of landing industry and jobs.
The four-year-old Baxley campus of the Altamaha Technical College is jammed with students, and a downtown annex has reached capacity levels for candidates in the Licensed Practical Nursing program. And with the long-awaited completion of the last 30-mile stretch of the Golden Isles Parkway now in sight, it all seems to be coming into focus for the community.
"We have been strengthened in the last four or five years more than in all the 100 years before," says Baxley Mayor Steve Rigdon. "The Golden Isles Parkway will give us a four-lane connection to the coastal ports, the technical college is set to turn out a trained and skilled workforce, and the new industrial park will open business opportunities we could not have otherwise enjoyed."
Tree-Huggers
So what does a small town that seems to be putting it all together do for an encore? It counts every tree in town, of course. And catalogs them. And sets their longitude and latitude with a satellite. Baxley did all that and more for its tree population. It's all part of a new focus on improving the town's landscape with ordinances designed to preserve trees as well as buildings. Assisted by the Altamaha Regional Development Center, Baxley mapped its trees using the Global Positioning Satellite to set coordinates. The city added other information, such as species and care, and put it all in a database. At the same time the city enacted and is actively enforcing new tree ordinances. "We were losing trees because we had nothing in place to stop them from being cut down," says Baxley. "This will improve the beauty of the community and preserve a natural resource."
Since the program began, more than 100 trees have been planted on downtown streets. New ordinances also require builders to submit landscape design along with construction plans for approval by the city. Trees are also celebrated with fun and music during the town's annual Tree Fest, which attracts more than 15,000 visitors.
When Baxley civic and government leaders aren't planting trees or building industrial parks, they like to ask questions. Elected officials and the city manager visit local schools to participate in a question and answer game modeled on "Jeopardy." For a week prior to the contest, the officials and city manager hold seminars on city operations. The kids are taught who does what in city government and how government works and uses tax dollars. Then teams of students compete for prizes donated by local merchants and the contest is televised live to classrooms on a closed-circuit network.
"This is not only fun but it gives the kids an opportunity to interact with the leadership," says Jeff Baxley. "It matters to the city what they know and what they think. They are, after all, our future leaders." Baxley says he is often surprised when teens come up to him and say, "You're the city manager," and begin describing what his job entails. "Not many eighth-graders anywhere know who their mayor is or who's on the city council," he says. "But we want them to know and we want them to be able to approach the community leaders. And they are doing it."
City of Covington
Connecting the Dots
By Jerry Grillo
The shady, tree-lined streets of Covington are well known to a global TV audience that tuned in regularly from 1988 to 1995, when the antebellum city starred as fictional Sparta, Miss., in the small-town cop show, "In the Heat of the Night."
Turns out truth is more dramatic than fiction. What many of those couch jockeys don't know is, the real-life Covington police department has attained its own international fame by drastically reducing crime in this Rockwellian city of 11,500 on the fringes of Metro Atlanta.
Covington's police depart-ment was already known as the first in the state, and 10th in the nation, to receive national accreditation in 1985. But recently the department received international acclaim as winner of the 2002 Webber Seavy Award.
"I liken it to winning the Oscar, the Heisman or the Grammy of law enforcement," says Covington's Chief of Police Stacey Cotton. "I count myself fortunate to be chief of what I believe to be the finest department in the state and the country, and this award kind of backs that up."
Sponsored by Motorola and the International Association of Chiefs of Police, the award recognizes effective innovations in law enforcement. Covington, with its force of 52 sworn officers, was in competition with 150 departments from the U.S., England, Canada and India. The department finished ahead of mega-departments from cities like Los Angeles, Philadelphia, Baltimore and Toronto.
"We're not a rural town anymore, and we don't run our department that way," says Cotton. "We consider ourselves a metro area police department." Covington won the award for its VIPER program (Variable, Intensive Patrol, Eradication and Response). Started in 1998, VIPER is a four-man unit that focuses on troubled areas, working at the street level to combat drugs, burglaries and other local crimes. The town was under siege, with open-air drug transactions and a rising number of assaults and burglaries. The department gathered input from residents in troubled areas, developed strong relationships within the community and answered the call.
Safer Streets
Since VIPER's implementation, aggravated assaults have decreased by 69 percent, simple assaults and battery by 64 percent and burglaries by 21 percent. In one year alone, VIPER was responsible for more than 350 arrests.
"We put officers into troubled neighborhoods, they talk to local residents and seek out best solutions to the problem," says Cotton. If someone is selling drugs, the VIPER team won't target the house or the suspect inside, but they'll target the people coming into the neighborhood to buy the dope. "They might make a case against the buyer, turn him into an informant, let him go in to buy the dope," Cotton says. "When they kick in the door, these are Covington uniform cops working narcotics. It's not the GBI or FBI, not an undercover squad. It's the same officers who were out there two weeks ago talking to residents. The community sees that when they ask for something, they get a positive response."
One of the neighborhoods well-known to Covington's street cops is the area around Fowler Street, historic homes that fell into the hands of slumlords, a place where drug dealers could make a buck and a run-down nightclub kept residents on edge. But the neighborhood is receiving a major clean-up thanks to the efforts of local African-American ministers and the Arnold Fund, a private foundation that gives grants to fund a wide array of Covington and Newton County projects.
Fowler Street Redevelopment Company, formed by the Newton County Ministers Union, with money from the Arnold Fund, has purchased 35 small rental houses in the area and is gradually turning the neighborhood around.
"Now we have colorful houses, picket fences, sidewalks, streetlights — a real quality neighborhood," says Frank Turner Sr., who has been Covington's city manager for 32 years. "The houses were basically gutted, then insulated and fixed from the inside out — modern kitchens, rewiring, new windows and new plumbing."
"All of this without government involvement," says Turner's son, Frank Jr., the attorney who heads Fowler Street Redevelopment and represents the Arnold Fund. "It's the result of a great volunteer effort." And more than $500,000 from the Arnold Fund.
The bad seeds have been kicked out. Most of the residents, says Fowler Street property manager Gwen Smith, are "settled people and seniors." The nightclub has been replaced by a public park. The colorful, quaint cottages bring to mind the revamped neighborhoods around Atlanta's Grant Park. "We see it as a work in progress," says Frank Turner Jr.
It's one of several works in progress in a city that is learning to connect the dots. Several years ago the Arnold Fund brought smart-growth guru Andres Duany to Covington for a nine-day session with town leaders, residents and designers to plan the city's future.
Connectivity
"One of the simple things that was reinforced during that session was the idea of connectivity," says the elder Turner. "Getting from one neighborhood to another, and also the non-uniformity of housing projects. People mingle better if housing is mingled."
Covington got it. Duany's visit inspired a master plan for the area that includes integrative neighborhoods around the historic downtown square. Clark's Grove, located on an 80-acre parcel that used to be called Parker's Pasture, is about a half mile from the square, and will feature a mix of single-family homes, cottages, townhouses, apartments, retail and office space, linked by tree-lined winding streets and sidewalks. The homes are designed to resemble those in historic Covington, with front porches and fenced yards illuminated by old-timey street lamps. The neighborhood is being developed by Clark's Grove LLC, a for-profit corporation formed by the Arnold Fund.
Bob Rutland, who made his mark redeveloping office and residential properties in Decatur, has moved to one of Covington's historic mansions and is adding his own touch to the community's canvas. His company bought an 1870 building on the National Historic Register. Formerly a bank, fire station and city hall, it sits next door to Ramsey Furniture, owned by Covington Mayor Sam Ramsey. Rutland, whose partner is Newton County developer R.J. Fields, turned the building into Class A office space, headquarters for his Greyland Real Estate Investment. His company bought Covington Plantation, a struggling golf-course community on the outskirts of town, and renamed it Covington Place.
Meanwhile, just behind Rutland's antebellum home on Floyd Street, he's building East Haven, a traditional neighborhood development of 36 houses that, like Clark's Grove, will mimic the look of historic Covington. "We're enhancing our neighborhoods," says Chief Cotton. "In a place that was a high-crime area, where we even had a murder or two, there's a playground. High-end, newer homes are intermixed with attractive, affordable homes. Instead of pushing people out, we're developing communities that residents have a stake in."
City of Douglasville
Reaching For The Brass Ring
By Jerry Grillo
City leaders in Douglas-ville just smile when asked why it took so long for their community to catch a ride on the growth express. A few years ago, to the outsider, it seemed as if the small town 20 miles west of Atlanta was in no particular hurry: the metro area's version of a late model pick-up truck plodding along in the slow lane, with nary a concern for the line of impatient tailgaters in its wake.
But hidden behind and within all those trees along Interstate 20 were subdivisions that were swallowing up new residents, commuters who increased the city's population from 11,635 in 1990 to 20,065 in 2000.
Then three years ago the massive Arbor Place Mall opened, and with it another million square feet of retail space sprang up along Interstate 20. Rural Douglasville became a destination for shoppers from the western suburbs all the way into eastern Alabama.
What wasn't obvious to outsiders is the way the city doggedly pursued the tools it wanted, or needed, to transform itself into a regional player and a better place to call home.
"We've grown up steadily over the past decade and a half, and of course with that has come an increasing demand for government services," says Douglasville City Manager Bill Osborne. "And in spite of that, we've been able to reduce our tax millage rate." In 1991 the tax rate was 4.94 mills; by 2001 it dropped to 4.40 mills.
"Part of that is good management," says Osborne. "Part of it is [that] property has become more valuable."
Douglasville has met the increasing demand for services through a diversified income stream, the major source of revenue being sales taxes (18.3 percent). "We haven't been all that dependent on the rise or fall of any one particular thing," says Osborne. "So we've been able to provide services and programs at a reasonable cost."
Communications Frontrunner
Whether annexing land to increase its revenue stream or creating cultural opportunities and economic development in its historic downtown, Douglasville learned how to take the initiative. This was particularly evident 10 years ago, when the little city outwitted Atlanta in a race for precious communications efficiency.
In 1992, Douglasville wanted to replace its outdated radio communications system with a powerful 800 MHz system, but there were no 800 frequencies available. Then, through the city's Information Services Director Bob Harper, Douglasville learned that the federal government was taking 20 unused frequencies from the state of Georgia and that the city of Atlanta was planning to tie those up for its own use and for the 1996 Olympics.
Knowing that the FCC (Federal Communications Commission) operates on a first-come, first-serve basis, Douglasville quietly prepared the paperwork and flew its representatives, including Harper, out-of-state to hand-deliver the application. Douglasville broke in line ahead of Atlanta and secured eight of the 20 new frequencies.
Basically, what it means in this age of homeland security, is a consistent line of communication among more public safety organizations across jurisdictional lines. "Crime or terrorism doesn't stop at city limits or county lines," says Harper.
Douglasville then joined Cobb County in a mutual use agreement, so if either jurisdiction's communications system is knocked off the air by lightning, for example, that government can switch to the other's radio system. Douglasville is also in the process of forming a partnership with Carroll, Haralson and Heard counties.
"Those frequencies are like gold," says Douglasville Mayor Mickey Thompson. "We're the only district in the western metro area with this kind of system and it makes Douglasville a front-runner in homeland security communications."
While the city was expanding its communications capabilities, it was also extending its boundaries — from 9,500 acres in 1990 to its present 14,000 acres. That area includes the city's "quality development corridor" east along I-20, including the mall and the 2,300-acre New Manchester project. When completed (sometime around 2020), New Manchester will be a city within the city — a mixed-use development with 9,000 residents living in neo-classical homes, 25,000 workers, an office park, retail space, conference center and three golf courses.
The creation of New Manchester required the establishment of a new zoning ordinance by the city, which was honored by the Georgia Planning Association in 1999 for its "Design Concept Development" category.
Spiffing Up Downtown
Douglasville took the initiative again in 2000, when it became a Main Street City and focused inward, as one of the first Georgia cities to receive a Livable Centers Initiative Grant from the Atlanta Regional Commission. The city has received $3 million in grants so far, and is using it to plan and implement revitalization of downtown Douglasville, the core of which is listed on the National Register of Historic Places.
The majority of the buildings date from the mid-19th century to mid-20th century, one- and two-story Victorian structures, with Gothic arched openings and hooded windows. The railroad right-of-way runs east to west through downtown.
Work downtown has barely begun, but private investment has been heavy, especially from restaurants, the types of eateries you'd expect to find in Midtown Atlanta — Gumbeaux's, a Cajun place; Kegon, a Japanese restaurant; and The Vortex, which will take up about 6,000 feet when it opens this spring. The city also turned an old warehouse into a conference center — it'll do until New Manchester builds a Marriott conference center. So far, the downtown center has stayed booked virtually every weekend since it opened in December 2001.
"If you walk away from your downtown, you let it die," says Thompson. "We were determined not to let that happen. Ultimately, this is not going to be a place where people just happen to be. It's going to be a destination."
Douglasville's Community Develop-ment Director Elizabeth McClendon says it will take more than trendy visitors and county residents making road trips from distant subdivisions to keep downtown hopping. "It takes residents and rooftops," she says. Both seem to be on the way. McClendon says 200 new rooftops are in the planning stages in the areas surrounding downtown; near the city center, old homes rarely have a chance to be listed with realtors. "They average one week on the market," she says.
One of Douglasville's most famous older homes, the Robert-Mozley House on Cambellton Street, built in 1901, has a permanent tenant — the Douglasville-Douglas County Cultural Arts Council (CAC). Formed in 1986 and partially funded by the city government, the CAC serves as an umbrella organization for 13 satellite groups, including a camera club, art guild, historical society, theater groups and two poetry clubs — one that focuses entirely on cowboy poetry, an appropriate literary discipline for the pioneers living on Metro Atlanta's western frontier.
City of Duluth
Striking An Old Chord
By Jerry Grillo
Anna Huthmaker draws her bow across the strings of a cello, sending a resonant prayer drifting melodically through rooms filled with the living tools of dead artists. Violins and cellos created in the 18th and 19th centuries by European craftsmen stand or hang at attention within the walls of Roland Huthmaker Bowed String Instruments on Main Street in downtown Duluth. It's a harmonic haven that might seem oddly out of place in the heart of most Deep South towns.
"The first time I pulled up in town, there was a wedding in this building, and I swear to God, I saw Aunt Bee walking out these doors," says Anna Huthmaker, whose father, Roland, brought the family business to Duluth in 1994. "We've always called it Mayberry."
The Huthmakers' store and repair shop has made Duluth an important stop for musicians and craftsmen from around the planet, while adding musical character and a touch of old-world charm to a city that has reinvented its center.
The Huthmakers used to occupy a building that is now a seafood restaurant. In its past life, their current home was a wedding chapel and a piano store. Their Main Street neighbors include John's Stained Glass Enterprise, run by Duluth native John Phillips, and a yoga studio. Just a block away is bustling Buford Highway, an ornery reminder that this is still Gwinnett County.
On The Green
The Main Street shops back up to a 4.5-acre Town Green that was completed in 2001. The fast-growing city has taken a step back in time in an effort to give a commuter community a sense of place.
"We wanted to create a focal point for the community, a place where families could gather and generate memories," says Duluth City Administrator Phil McClemore.
So the city spent $5 million to buy and develop land across from city hall, which is located in an historic old Baptist Church. Where an old parking lot used to be, a tree-lined, terraced green lawn stretches from West Lawrenceville Street to a plaza where in summer children play in the dancing waters of an interactive fountain.
"I've heard exasperated mothers say, 'I don't know why I joined the swim club, my kids are happier coming here everyday,'" says Doug Spohn, who developed lofts and retail space on the Hill Street side of the Town Green and will have invested more than $16 million in Duluth's downtown neighborhood before he's finished. "The goal was for someone who moves to Duluth to think these new buildings had been here for 100 years."
Spohn, who plans to add a restaurant with lofts upstairs on an undeveloped Main Street corner of the Town Green, has moved into one of the lofts on the Hill Street side — a soda shop is downstairs, but he says he's offsetting the caloric effects of that by going to the yoga studio twice a week. Next to his new buildings, directly across the street from city hall on the corner of Hill and West Lawrenceville, is the 103-year-old Knox House, which Spohn bought and renovated.
On the other side of Spohn's retail-lofts project is a festival center and amphitheater the city built for $1.25 million. Duluth's Fall Festival Committee is reimbursing the city $1 million for its new headquarters, which serves as a community center.
"The festival committee originally wanted a $25,000 gazebo on the Town Green," says McClemore. "That turned into a $1.25 million building. That kind of commitment from a volunteer group is almost unheard of." It might still be unheard of were it not for the efforts of local citizens like Catherine Willis, whose great-great-grandfather founded what became the city of Duluth back in 1821.
"My family's been interested in the beautification of downtown for a long time," says Willis, who has been involved with the fall festival since 1961. Since 1983, all festival proceeds have gone into downtown — the installation of old-fashioned lanterns, planters for trees and shrubs, sidewalk bricks.
Duluth residents and visitors have been taking advantage of their new Town Green. More than 12,000 of them attended a Three Dog Night concert there, and hundreds more attended movies on the square outside the community center, where a seasonal ice rink has been installed — McClemore admits that Currier and Ives imagery was one of the inspirations for the Town Green project. During the Fall Festival in September, more than 40,000 pounded the sidewalks and turf — enough people to allow the festival committee to pay back $200,000 of the $1 million it owes for the community center.
Domino Theory
Phase II of Duluth's downtown revitalization includes new sidewalks on Main Street and streetscape work on Hill Street. When the city is through, it will have invested about $10 million in its town center.
The remaking of old Duluth isn't ending with the Town Green project. Across Hill Street from the Town Green is a nine-acre tract being developed by Robert Forro and Dan Woodley. The Hill Street Townhouses will resemble rowhouses in historic Boston or Philadelphia neighborhoods — with a variety of looks, such as changes in brick color, stone bases, limestone, stucco, metal railings.
"This all started because the city made a commitment to do the first phase by itself, and created the Town Green," says Spohn. "It's the domino theory at work. You raise the bar architecturally and you build on that. It becomes an evolution, not a revolution."
Back at Huthmaker's, in one of the old buildings that new development is trying to mimic, Anna and her family repair and restore string instruments and bows. Some of the best violin makers in the world know Duluth because of Huthmaker's. Last month, the shop hosted artisans from Cremona, Italy — the spiritual center of violin making, birthplace and home of Stradivari himself. The little shop has added character to downtown and put Duluth on the international music map. The Huthmakers can also be credited with helping the school's orchestra program become one of the most decorated in the Southeast.
"There were 13 students in the high school orchestra when we moved here," says Anna. "I called my best friend, Dana Lowe, and told her they really needed her here. Now, they have something like 200 students in the orchestra and Dana was voted Gwinnett County Teacher of the Year last year."
At least 100 youngsters take private lessons with the Huthmakers, who have surrounded themselves with antiques and art. The wooden instruments are living things, radiating the kind of ancient warmth the city of Duluth is trying to recapture.
City of Elberton
Greasepaint And Skateboards
By Ed Lightsey
All the fears and thrills of opening night rippled through the Elbert Theater last April as excited playgoers filed in and filled every seat. Then they filled the aisles, waiting elbow-elbow for the curtain to go up.
"I'm afraid we might have violated the fire code," says playwright Fran Oakley. Still, Oakley was able see those three little letters that spell success for any play — SRO. In fact, almost 10 percent of Elberton's 4,743 citizens were jammed into the Elbert Theater to watch 130 school children perform A Lesson In History, another product of Fran Oakley's ACT III Project, which seeks to put Elberton's school children on stage and on the road to success.
By the time A Lesson In History ran its full six performances, almost half the town had showed up to enjoy it. Proud parents, brothers and sisters and total strangers watched the kids act up, and they loved it. "We had children from all grades," says Oakley, an eighth-grade teacher at Elbert Middle School. "They learned their lines and hit their cues and we all just had fun." But Oakley's play had other lessons as well. "Some of these kids were so shy, some of these kids seemed to have nothing to offer," she says. "But when they got up on that stage they just blossomed. I was surprised."
Oakley believes plays and stage performances are important because they can build a child's self-confidence and self-esteem. "If you can make children feel good about themselves, then you've won half the battle," says Oakley. Participation in theater activities can improve grades and attendance and foster healthy attitudes about life in general, she says.
Culture, Skateboards
Kids in Elberton have much to enjoy and appreciate. Few communities have put so much into providing for their future leaders. In addition to Oakley's plays, Elberton's youth can enjoy the Summer Theater Academy where kids perform in classics like The Adventures of Tom Sawyer. Each year students from the Elbert County Schools travel to Mure-cho, Japan, Elberton's sister city, for two weeks of cultural education. The Japanese city sends its students to Elberton. Funding for the trips comes from locals.
Young techno-whizzes in Elberton are offered apprenticeships and internships at ElbertonNET, the city's technical provider. There the interns maintain the city's Web site, video community events, edit videotapes and produce local TV access cable shows.
On a chilly morning, Elberton Mayor Iola Stone sits at a desk at her home and composes a letter to her pen pal, a sixth-grader at Elbert Middle School. But Mayor Stone's encounters with young people are not just limited to her pen pal. Young folks in Elberton have some requests of their government that affect the city budget.
A group of teen and sub-teen skateboarders wants a place to practice and compete. In most places skateboarders are a nuisance. "They are here, too," says Mayor Stone. "But we've been meeting with them and we are making progress on a skateboard arena." Here's the deal the city officials and the skateboarders are cutting: The city will find the funds for the arena and the skateboarders will help design, build and maintain it. "We're looking to put it in the 2003 budget," says the mayor. Meanwhile the kids will continue using the First Presbyterian Church parking lot for their noisy recreation.
Young Focus
Not many cities are so willing to bring so many young people into the government process. But there is a design in the mayor's mind that goes far beyond making a few skateboarders happy. "I believe that industrial prospects look at what's available for their children and their employees' children when they make a decision," she says. "At the same time, our children will be the future caretakers of us and our community. The time and money we spend on them are good investments."
Despite surrounding its children with attention, Elberton still manages to take care of the mundane business of keeping a community alive each day. A nice aesthetic and practical touch is a five-year plan to convert all overhead power lines to an underground network. The move complements the city's continuing renovation and restoration projects in the downtown area.
The city's central business district has received designation as an historic site, as have two residential districts. The restoration of the Elbert Theater is near completion with the majority of labor performed by city employees and volunteers. One family-owned business has already moved into a restored historic building and owners have taken an upstairs apartment, the historic preservationist's ideal scenario.
When Dawn and Jerry Lahman made a scouting trip to Elberton seven years ago, they were looking for a place to set up a new business. Elberton was to be just one of their stops. But when they saw the downtown area and met the people of the community, they quit their jobs in Gainesville, Fla., and opened Papa's Pizza To-Go just off the Elberton downtown area. The restaurant is in an early 19th-century building, and business has been good. So good, in fact, that they were chosen as the company's 2001 Franchisees of the Year. "We love it here,' says Dawn Lahman. "The people here have been supportive of downtown improvements and recruiting new business. We have been very successful." And the Lahmans have been in town long enough to understand local politics. "By the way," says Dawn, "We support those skateboarders and their arena."
City of Moultrie
Driving And Diving
By Ed Lightsey
Everyone who owns a driver's license knows how to commit the perfect crime: simply pick out a nice quiet neighborhood where the speed limit is 35 mph and zip through it at about 50. The odds of getting caught are slim. Speeders know the police are under-manned and spend most of their time in high-crime areas.
But in Moultrie, thanks to an innovative new program, your speeding spree could be a short one. That resident shaking his fist at you could be doing more than watering his lawn. In Moultrie he could be clocking your speed with an official police radar gun.
Police here have begun an unusual program that allows citizens to check out radar guns for up to three days to clock speeders in their neighborhoods. The offender's speed is noted in a log book along with the tag number, date and time. That information is turned over to police who trace the auto to its owner, who receives a firm warning to slow down or else. "We don't actually issue them a ticket," says Moultrie Police Chief Mike Boyd. "But they get the message."
Boyd says making neighborhoods safer is the goal, but there are some unexpected by-products. "We can't put an officer in every neighborhood but this does give us a presence of sorts," he says. "And it has built good will between citizens and the police. It empowers our citizens and we feel like we are helping each other." Boyd says the $1,500 radar gun was "a very good investment."
The police radar gun program, which locals believe to be the only one of its kind in Georgia, is an example of the lengths to which leaders of this community of 15,000 are willing to go to improve quality of life in Moultrie. But people here have always been keen on quality of life issues.
Art Legacy
Thirty years ago Moultrie hosted the touring art collection of industrialist Armand Hammer, viewed then as one of the most valuable in the world. "The sponsors felt the collection should go to a poor, underserved area of the world and we raised our hands," says Billy Fallin, chairman of the Moultrie-Colquitt County Development Authority.
When it comes to quality of life issues, "underserved" is no longer part of the description of Moultrie. The Hammer collection seemed to inspire this community — a short time after the exhibit closed its highly successful month-long show in Moultrie, citizens raised $1 million in private funds to renovate an old school building and create the Colquitt County Arts Center. Today the center offers citizens more than 200 programs in dance, music, painting and acting.
Private funding by one citizen gave Moultrie an unusual place in the sports world. Moose Moss, a former WWII pilot, might have developed his passion for diving while he ducked and dodged Japanese fighters on his frequent trips over the Burma Hump. Wherever the wellspring of his passion, he single-handedly turned Colquitt County and Moultrie into a venue for diving that no other community can match. Moss began by building a diving pool with multi-level boards and platforms, carved out of land on his cattle farm in rural Colquitt County. It wasn't long before Moss' reputation as a coach spread and divers began flocking to his farm from greater and greater distances.
Though Moss died more than a decade ago, his legend lives on in Moultrie's Moose Moss Aquatic Center, now located in downtown and a magnet for thousands of competitive hopefuls. As an attraction for the best divers in the land, it is one of the finest venues of its kind. Handfuls of college scholarships have been offered at the pool's edge. So popular has the center been that locals have raised money needed to add a dry land training center, a kind of gymnasium for divers.
But a community cannot live on sport and art alone. That's why economic development leaders here quickly embraced several multi-county development authorities that have put hundreds of jobs into the community and raised the expectation levels of educators. Moultrie was the first city in Georgia to receive OneGeorgia funding, and it paid off nicely. The money ($1.5 million) was used to attract meat processor Farmland National Beef into a renovated packing plant, generating a $16 million investment and creating 350 jobs. The arrival of Farmland National Beef was the result of the Joint Development Authority, an economic development collaboration between Colquitt and four neighboring counties.
Another collaborative effort with neighboring counties, the South Georgia Government Services Authority, is paying off in Moultrie's classrooms. This effort has provided high-speed, interactive distance learning to Colquitt County Schools and three other county members of the authority. Students who express an interest in subjects far afield of the normal curriculum now have better opportunities to join others with the same interest, but at different schools, in distance-learning courses. "None of us could have done this alone," says local development authority chairman Fallin. Moultrie citizens collaborated by approving special purpose taxes of $5 million for the construction of a new 200-acre industrial park.
While Moultrie's collaborations with neighboring counties were spawning jobs, locals did not ignore the city's downtown, the heart of the community. Millions of dollars have been applied to courthouse renovations, a new post office and building restorations. In the past decade, downtown occupancy rates have soared from 50 percent to 98 percent. "This city's successes, and its future successes, are based on collaborations," says Fallin. "Nonpartisan collaborations in the political arena, unselfish collaborations between every level of government and the collaborations between leadership and the citizenry have all combined to make Moultrie a better place to live and work."
City of Suwanee
The Greening Of The Suburbs
By Jerry Grillo
Like most residents of Suwanee, Nick Masino is from somewhere else. "But I represent the majority of the city," says Masino, who has been Suwanee's mayor since 1996, but wasn't even sure he lived within the city limits when he was first invited to get involved in local government.
Masino had been living in Suwanee for six months when he became a standard bearer for a neighborhood NIMBY (Not In My Back Yard) effort at a city council meeting. City leaders were considering rezoning a parcel of land to accommodate a paint and body shop near a residential area.
"I just wanted to say my piece. I wasn't sure what the city limits were or if I lived in the city," says Masino. "After the meeting, one of the council members came up to me and my friends and said, ?We appreciate you being here, but don't turn out like every other neighborhood group.' You know, just show up to complain, and then don't show up again. He told us to get more involved."
Within two years Masino and his two buddies were involved in local government, either serving on the city council or the planning and zoning board. "We got sucked in," says Masino.
Sounds like Suwanee itself, a tiny town in what used to be the Gwinnett County backwoods that is sucking in new residents faster than anyplace else in Metro Atlanta. Suwanee is where Interstate 85 used to end. But since 1990, the city's population has swelled from 2,412 to its present 10,100. While Suwanee's interstate exits have captured industries that desire an accessible location, the housing industry has mushroomed, growing at a rate faster than the city's population, from 825 housing units in 1990 to 3,200 in 2000 (a growth rate of 288 percent, compared to a 262 percent population growth during the same period).
That's a lot of cleared land for a small town that has managed, through smart planning, to be designated a Tree City USA for the past 13 years. Those same residents who are arriving by the SUV-load are putting their money where their best interests are.
Saving Trees
November 2001 was a banner month for Suwanee for two reasons, both of which saved the lives of countless trees. First, Suwanee became one of the first 13 Georgia cities to test the paperless, touch-screen voting system. Second, and perhaps most important, is what the citizens voted for. With an approval vote of 58 percent, in an election that nearly tripled the city's previous highest voter turnout, they approved a $17.7 million greenspace bond referendum. Ultimately, they voted to raise property taxes by more than 120 percent to acquire land for greenspace.
"Gwinnett County is not a place that tends to vote for higher taxes and government intervention," says Suwanee City Manager Hardin Watkins. "We have progressive-thinking citizens, though, and they understood that sometimes you have to buy the land in order to preserve it."
With an average household income of almost $80,000, Suwanee's residents figured they could afford the tax hike. Either that, or they figured they couldn't afford to do without it. City leaders were not idle, either, completing two strategic plans with citizen input to help shape a green future for the fast-growing city.
In the fall of 2001 they completed the Open Space and Recreation Needs Assessment. In February of 2002 they unveiled the Old Town Master Plan. "Our citizens weren't interested in soccer fields and baseball diamonds," says Watkins, who came to Suwanee five years ago from Decatur. "The people of Suwanee said they wanted passive parks and trails. And they voted to build a sense of community and identity.
"The challenge of being a small city in a growing metro area is building that sense of community. I saw that happen in Decatur. And I'll guarantee the people in Duluth will tell you the same thing."
Indeed, Masino and Watkins have spent plenty of time in their neighbor city Duluth, just six miles away, looking over that city's Town Green plans. Their research hasn't stopped at Duluth. "We're nerds about this stuff," says Watkins. "We haven't been satisfied just visiting the next town over. When we're supposed to be on vacation, we're driving our spouses crazy taking pictures of streetscapes and sidewalks."
On a trip to Ohio State, Masino's alma mater, he and Watkins stopped in Dublin, Ohio, to look at the downtown architecture.
They've also been inspired by Smyrna, the Cobb County city that began building its town center in 1988 and has served as a model of new urbanism ever since. Unlike Duluth, which mostly developed out, Suwanee still has plenty of land to work with. Using its voter-approved funds, the city reached agreements to purchase 193 acres for nearly $10.4 million. That includes an 85-acre parcel to be known as Suwanee Creek Park, which will serve as the main trailhead for the three-mile Suwanee Creek Greenway, a bucolic walk through the woods that is already half finished.
Across the Buford Highway from city hall is a 23-acre parcel the city bought for $3 million to build its town center, featuring an urban park and amphitheater and a roadway through the site. Behind city hall and over the railroad tracks, near Suwanee's historic old town, adjacent to the site for a new branch of the Gwinnett County library, the city acquired 24 more acres to be preserved as a natural area. A pedestrian tunnel under the railroad tracks will link the historic downtown and library with the town center.
And within walking distance of the tiny historic downtown area, where they light up the old red caboose every Christmas season, is Suwanee's newest concept in residential design. Old Suwanee, developed by Richport Properties, is a neo-traditional 104-home neighborhood with a turn-of-the-century (as in 1900) look — alleyways, back-entry garages, front porches, sidewalks, narrow streets laid out in a grid pattern. The project, which received the Development of Excellence Award from the Atlanta Regional Commission and Regional Business Coalition, began as a challenge to developer Rick Porter.
"I listened to Rick give a speech about new development, and challenged him to test his ideas in Suwanee," says Marty Allen, Suwanee's director of Planning and Zoning. "I told him to put his money where his mouth is."
City of Vidalia
Regionalism Pays Off
By Ed Lightsey
The last time Toombs County Commissioners sat down with city officials of Vidalia and Lyons to divide tax money, Santa Claus showed up and wanted some too. That would be the town of Santa Claus, of course. "It was the first time Santa Claus asked for anything," says Vidalia City Manager Bill Torrance. "So we allocated some funds to meet the request." And yes, the Toombs County Special Purpose Local Option Sales Tax Issue got a Santa clause and the little town got 1 percent of the monies collected from the taxes.
Giving Santa Claus (pop. 237) a little money is all part of a day's work for Vidalia's leadership. Like a child with many siblings, Vidalia, a town of 10,331, is constantly sharing with others.
Vidalia is a rare municipality: Its city limits fall into two counties, Toombs and Montgomery. Rarer still is the fact that though Vidalia is the largest town in either Toombs or Montgomery, it is not the county seat of either. You would think that layers of government combined with traditional turf wars and old jealousies would smother the town.
"It is true that we have our difficulties at times," says Torrance. "But I think we've come to understand that what is good for one is good for all." Part of a growing spirit of inter-governmental cooperation was due to mandates from the legislature and the governor's office to cut duplications in city-county services and to share more service facilities. As a result, in towns like Vidalia, city water and sewage lines are creeping into the county. The annexation of county homes into the city has also helped Vidalia strengthen its tax base and provide additional services to new residents.
School Rules
One of the most highly prized of those services is education. Vidalia has its own city school system and is gaining a reputation for scholarship and scholarships. The Vidalia city school system is a state leader in the percentage of eleventh-grade students passing all four high-school graduation tests on the first try. And city leaders point to the system's consistent placement at the top of all city systems in ranking scores of standardized tests. Vidalia's schools have also landed the No. 1 rank in retention among HOPE scholarship recipients.
"There's not a lot of sparkle, not a lot of special programs in what we do," says Vidalia School Superintendent Tim Smith. "Too many school programs are a mile wide and an inch deep. We concentrate on fundamentals and train our teachers to diagnose reading disabilities early." The Vidalia School System is joining with its county counterpart to build a new sports complex they will share. The city is donating the land.
Vidalia and its home counties have displayed ingenuity in saving money for taxpayers. When a 40-year-old building in downtown was scheduled to be demolished, the city got the owner to donate it. The city then moved the 6,000-square-foot building ? the largest structure moved in Georgia in 2001 ? and residents got a new convention and visitors bureau building that houses a regional tourism board and the soon-be-opened Sweet Onion Museum, a bow to the world-famous Vidalia Onion. The onion is also the centerpiece of the annual Vidalia Onion Festival, which attracts 40,000 free-spending tourists. The celebration of the onion is enjoyed by local tourism officials but not as much as it is by the economic developers here. The onion is a large part of the $31.2 million vegetable crop, which in turn is almost half of Toombs County's total farm revenues.
Those who use Vidalia's services and facilities are not afraid to chip in with labor and cash when needed. When the city and county landed a $500,000 state grant to build the new 6,000-square-foot Vidalia Community Center to serve senior citizens as well as host receptions, reunions and other community activities, the seniors put up $18,500 they had collected by passing the hat. In all, more than $100,000 came from private sources. The city donated the land for the building. Even the state DOT poured in $31,000 for a parking lot.
Regionalism paid off again when the Toombs-Montgomery County Development Authorities were born and went to work building the $1.5 million Montgomery County Industrial Park. The Authorities were able to get a nice mix of state and federal funding to equip the park with infrastructure, including a $250,000 grant for a speculative building. The cooperation between the two counties and their municipalities is giving the region a number of assets none could have landed alone.
Cultural Benefits
Vidalia has found that investing in cultural activities can yield benefits as well. The city regularly offers funding to the Altama Museum of Art and History, which holds one of the nation's largest collections of Staffordshire porcelain to be displayed publicly. The museum is also home to a group of 24 first-edition, hand-colored prints by John James Audubon and bird prints by noted 19th-century wildlife artists John Could and William Morris.
Vidalia's Ladson Genealogical Library boasts a 30,000-volume collection of family trees along the Atlantic Coast dating from the earliest days of the Colonies. The library has made Vidalia a mecca for those following their family lines. "Tracing family roots has become a more and more popular pastime," says Ladson Librarian Dusty Gres. "Genealogy is an important library asset and Georgia's libraries enjoy the reputation of having the latest technology available. The Vidalia collection is unusual in size and content, so with all this going for us we are going to naturally attract a lot of visitors."
With its role in sharing so many tax dollars with so many entities, it seems Vidalia and the surrounding political subdivisions could easily be at war with each other all the time. Not so, says city manager Bill Torrance. "When Santa Claus asked for funding, we settled the matter in less than two hours," he says. "We try to keep our eyes on the future and to tackle issues without rancor."