Flavor of Georgia Winners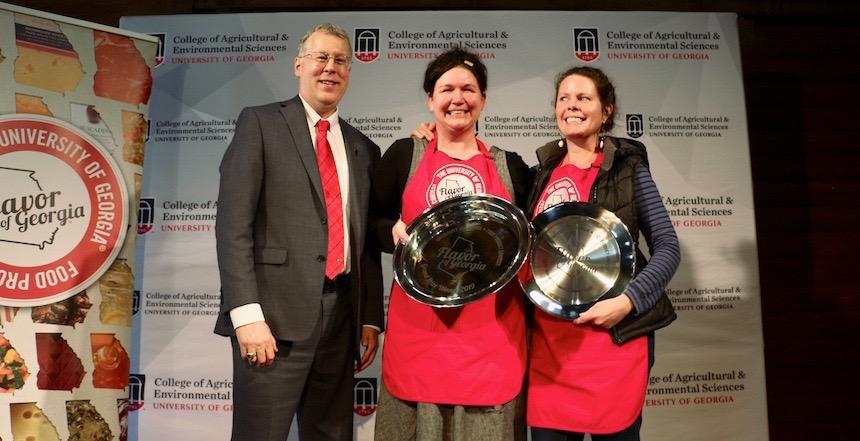 For 33 inventive finalists, the wait is over. University of
Georgia's (UGA) 2019 Flavor of
Georgia Food Product Contest has chosen a grand prize winner. Suzi
Sheffield and Atlanta's Beautiful
Briny Sea took home the grand prize, as well as first place in the sauces
and seasonings category. Her winning Gunpowder Finishing Salt is a tangy
mixture of chipotle, black pepper, garlic, onion, sumac and Hawaiian volcanic
salt.
The annual contest is conducted by the UGA Center for
Agribusiness and Economic Development and gives food businesses across the
state the opportunity to showcase their products. Judges are grocery buyers and
food industry experts who rate the competing foods on flavor, market potential
and use of the Georgia theme. With this year's crop of participants, the
contest has attracted more than 1,400 entries from all over the state in the
past 12 years.
Winning entries in the Flavor of Georgia contest have gone
on to land shelf space in regional and national grocery chains like Kroger,
Fresh Market and Whole Foods. Each category winner is given membership in the Department of Agriculture's Georgia Grown
program along with bragging rights and statewide notoriety. All winning
products will be stamped with the 2019 Flavor of Georgia logo.
In addition to Beautiful Briny Sea, this year's category
winners are:
From left, UGA College
of Agricultural and Environmental Sciences Dean Sam Pardue congratulates Beautiful
Briny Sea's Suzy Sheffield and Holly Hollifield on their grand prize win at
Flavor of Georgia 2019.
Photo provided by
CAES.
Do you follow us? Find us on Linkedin, Facebook, Twitter and
Instagram.