InVenture Prize awarded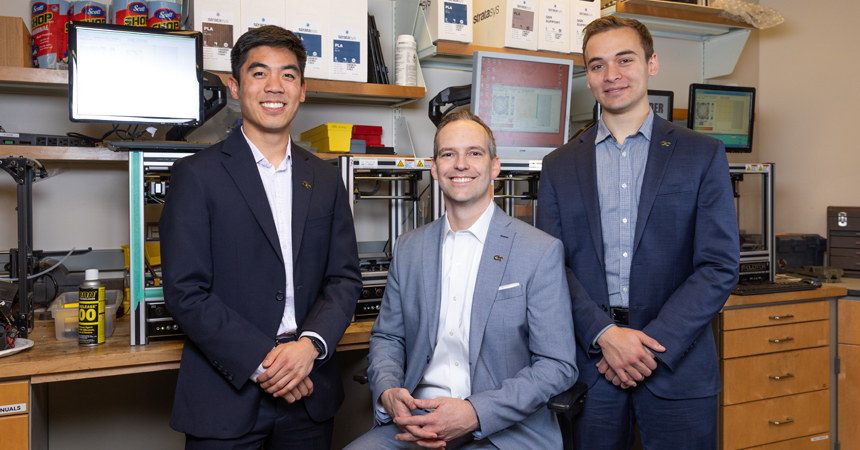 Georgia Tech's coveted first place InVenture Prize of $20,000 was
awarded this week to Ethos Medical,
a company created by former biomedical and mechanical engineering students. The
prize is the culmination of a faculty-led innovation competition among current
and recently graduated Georgia Tech students, sometimes called American Idol for Nerds.
As undergraduates, the Ethos Medical team began working on
their product, which makes spinal taps for epidural anesthesia faster and safer
via a real-time needle guidance system that can be used at a patient's bedside.
Since they graduated last year, the company founders have been working
full-time on development of their device.
Ethos Medical was one of six finalist teams competing for
the Inventure Prize. The final round of the competition, in which teams pitched
their inventions to a panel of three expert judges, was televised live on
Georgia Public Broadcasting stations. In addition to the cash prize, Ethos
Medical will receive patent licensing assistance and acceptance into Georgia
Tech's CREATE-X start-up program.
The TremorTrainer
team, which pitched a glove to assist people with hand tremors, received the
second-place prize of $10,000 and patent assistance; and the Nix
team, developers of an e-cigarette to help people stop smoking, received the
People's Choice Award of $5,000 as a result of online and text voting during
the show.
Next stop for Ethos Medical is the Atlantic Coast Conference
(ACC) InVenture Prize competition in North Carolina next month, where the
company will challenge inventions from 15 ACC universities.
Learn
more about Ethos Medical, CREATE-X
and Georgia Tech's biomedical engineering
program in the feature "Next-generation Makers," in this
month's issue of Georgia Trend.
Photo: Cassidy Wang,
left, and Lucas Muller, right, founders of Ethos Medical, with Georgia Tech
Biomedical Engineering Professor James Rains, center
Photo by Koko Hunt.
Do you follow us? Find us on Linkedin, Facebook, Twitter and
Instagram.